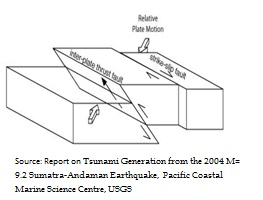 The Earth's lithosphere is broken up into a bunch of discrete pieces, called plates that move around the surface of the planet. There are seven or eight major plates (depending on how they are defined) and many minor plates.  This motion is driven by the flow of the mantle rock beneath the plates and by the forces plates exert at their boundaries where they touch each other.  Earthquakes happen when plates move with respect to each other because of the friction and stress at the edges of plates prevents them from slipping smoothly at their boundaries. When one plate is forced to dive beneath another plate, there is no way to do it except with some component of vertical motion creating tsunami (please see figure) . 
The tsunami that occurred during 2004 Sumatra-Andaman earthquake of Mw 9.3 was primarily caused by vertical displacement of the seafloor, in response to slip on the inter-plate thrust fault.  The earthquake and resulting tsunami in the Indian Ocean affected many countries in Southeast Asia and beyond, including Indonesia, Sri Lanka, India, Thailand, the Maldives, Somalia, Myanmar, Malaysia, Seychelles and others. Many other countries, especially Australia and those in Europe incurred casualties due to the tsunami, because they had large numbers of citizens traveling in the region on holiday. This tsunami-genic earthquake was one of the ten worst earthquakes in recorded history, as well as the single worst tsunami in history. Indonesia was the worst affected country. Beyond the heavy toll on human lives, the Indian Ocean earthquake has caused an enormous environmental impact that will affect the region for many years to come. The disaster also caused a substantial geo-physical impact in Indian Ocean. The disaster invited attention of affected countries for setting up effective tsunami early warning system and institutional mechanism for handling disasters.
The Government of India has put in place an Early Warning System for mitigation of such oceanogenic disasters under the control of Indian National Center for Ocean Information Services (INCOIS), Hyderabad. A state-of-the-art early warning centre was established with the necessary computational and communication infrastructure that enables reception of real-time data from  sensors, analysis of the data, generation and dissemination of tsunami advisories following a standard operating procedure. Seismic and sea-level data are continuously monitored in the Early Warning Centre using custom-built software application that generates alarms/alerts in the warning centre whenever a pre-set threshold is crossed. Tsunami warnings/watches are then generated based on pre-set decision support rules and disseminated to the concerned authorities for action, as per pre-decided standard operating procedure. The efficiency of this end-to-end system was proved during the large under-sea earthquake of 8.4 M that occurred on September 12, 2007 in the Indian Ocean.
The 2004 tsunami also prompted NDMA to formulate Tsunami Risk Management Guidelines to outline inter-agency roles and responsibilities, tsunami risk preparedness, mitigation and response.  
The Guidelines recommends practical and effective ways for awareness generation, capacity building, education, training and research & development for better tsunami risk management.  The Guidelines explore options for effective dissemination of tsunami alert and warning messages generated by INCOIS to the concerned agencies and coastal vulnerable communities exposed to tsunamis in a coordinated manner.
Structural Mitigation measures, as envisaged in the Guidelines, gives a brief guidance on design and construction of new structures as well as strategies for protecting lifeline and priority structures from Tsunamis along the seafront. The Guidelines urge BIS to roll out the pending construction standards entitled 'Criteria for Tsunami-Resistant Design of Structures'. It further recommends a robust techno-legal regime through efficient land use practices, bioshields, shelter belt plantation and mangrove regeneration with community involvement. A strong mechanism has been recommended for effective emergency response by involving local police network, civil defence volunteers wherever available, home guards, State Disaster Response Forces and National Disaster Response Force. Further, the Guidelines explore the  provisions of Disaster Management Act 2005 to mainstream concern of Tsunami risk management in disaster management plans of various levels.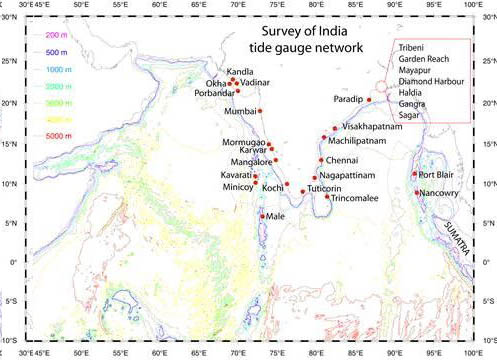 Recover and build
You should continue using a Weather Radio or staying tuned to a Coast Guard emergency frequency station or a local radio or television station for updated emergency information.
Check yourself for injuries and get first aid if necessary before helping injured or trapped persons.
If someone needs to be rescued, call professionals with the right equipment to help Many people have been killed or injured trying to rescue others in flooded areas.
Help people who require special assistance—Infants, elderly people, those without transportation, large families who may need additional help in an emergency situation, people with disabilities, and the people who care for them.
Avoid disaster areas. Your presence might hamper rescue and other emergency operations and put you at further risk from the residual effects of floods, such as contaminated water, crumbled roads, landslides, mudflows, and other hazards.
Use the telephone only for emergency calls.Telephone lines are frequently overwhelmed in disaster situations. They need to be clear for emergency calls to get through.
Stay out of a building if water remains around it. Tsunami water, like floodwater, can undermine foundations, causing buildings to sink, floors to crack, or walls to collapse.
When re-entering buildings or homes, use extreme caution. Tsunami-driven floodwater may have damaged buildings where you least expect it. Carefully watch every step you take.
Wear long pants, a long-sleeved shirt, and sturdy shoes. The most common injury following a disaster is cut feet.
Use battery-powered lanterns or flashlights when examining buildings. Battery-powered lighting is the safest and easiest to use, and it does not present a fire hazard for the user, occupants, or building. DO NOT USE CANDLES.
Examine walls, floors, doors, staircases, and windows to make sure that the building is not in danger of collapsing.
Inspect foundations for cracks or other damage. Cracks and damage to a foundation can render a building uninhabitable.
Look for fire hazards. Under the earthquake action there may be broken or leaking gas lines, and under the tsunami flooded electrical circuits, or submerged furnaces or electrical appliances. Flammable or explosive materials may have come from upstream. Fire is the most frequent hazard following floods.
Check for gas leaks. If you smell gas or hear a blowing or hissing noise, open a window and get everyone outside quickly. Turn off the gas using the outside main valve if you can, and call the gas company from a neighbour's home. If you turn off the gas for any reason, it must be turned back on by a professional.
Look for electrical system damage. If you see sparks or broken or frayed wires, or if you smell burning insulation, turn off the electricity at the main fuse box or circuit breaker. If you have to step in water to get to the fuse box or circuit breaker, call an electrician first for advice. Electrical equipment should be checked and dried before being returned to service
Check for damage to sewage and water lines.If you suspect sewage lines are damaged under the quake, avoid using the toilets and call a plumber. If water pipes are damaged, contact the water company and avoid using water from the tap. You can obtain safe water from undamaged water heaters or by melting ice cubes that were made before the tsunami hit. Turn off the main water valve before draining water from these sources. Use tap water only if local health officials advise it is safe.
Watch out for wild animals, especially poisonous snakes that may have come into buildings with the water. Use a stick to poke through debris. Tsunami floodwater flushes snakes and animals out of their homes.
Watch for loose plaster, drywall, and ceilings that could fall.
Take pictures of the damage, both of the building and its contents, for insurance claims. Open the windows and doors to help dry the building.
Shovel mud before it solidifies.
Check food supplies.Any food that has come in contact with floodwater may be contaminated and should be thrown out.
Expect aftershocks. If the earthquake is of large magnitude (magnitude 8 to 9+ on the Richter scale) and located nearby, some aftershocks could be as large as magnitude 7+ and capable of generating another tsunami. The number of aftershocks will decrease over the course of several days, weeks, or months depending on how large the main shock was.
Watch your animals closely.
Keep all your animals under your direct control.